I'd like to start by saying what a privilege it is to be here today. As a gay woman, at the grand old age of almost 35, my younger self would never have dreamed of attending an amazing day such as this, let alone being one of the speakers. It is so fantastic to see you all and so many of you.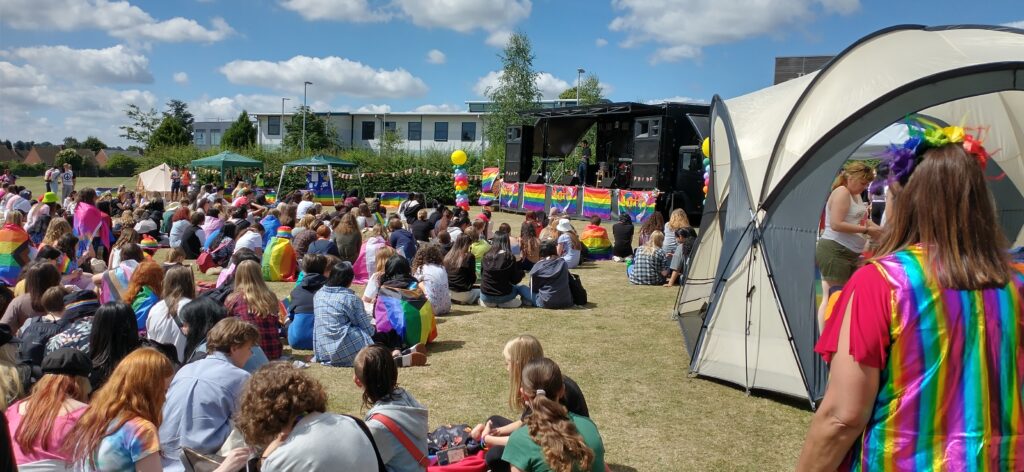 Whether you are a part of the LGBTQ+ community yourself, are a friend or family member of someone who is, or you support the LGBTQ+ community. My heart is filled with so much happiness and joy to see you here today, as you celebrate Pride.
When I was asked to speak about my role as an LGBTQ+ ambassador I knew there was so much I could speak about, and I did wonder where I should begin. And I decided that, as the wonderful Julie Andrews says, well sings, in the Sound of Music – I'd start at the very beginning, as 'it's a very good place to start'.
Because, although I run my own LGBTQ+ inclusion consultancy and have worked with the LGBTQ+ communities for the last seven years, younger me never dreamt that I would be where I am now.
I HAVEN'T ALWAYS BEEN AS HAPPY AS I AM TODAY
I may be a proud gay woman, with a wife, a house, a garden, two cats and a consultancy business supporting LGBTQ+ people and organisations who are striving for LGBTQ+ inclusion. But my life hasn't always been this way.
And dare I say on such a public stage, in front of all of you, I haven't always been as happy as I am now. I haven't always felt the self-acceptance and self-love that I feel today and that I hope with all my heart, every single one of you feels.
I was born in 1987 – blimey that makes me feel old! – in a village in Buckinghamshire and my entire school career at primary school, secondary school and sixth form was hard. I was bullied from the age of 8 until I left school at 18.
And it seemed that even before I knew I was gay, other people did. I remember, when I was in Year 7, some older kids on the bus asked 'are you homosexual or heterosexual?' It was the year 2000, with dial up broadband and a search engine called 'Ask Jeeves'– and honestly, I had no idea what either of those words meant!
And it wasn't until I was in Year 8 at my twin sister's friend's birthday disco that I realized that I was attracted girls. Because I met the most beautiful girl and 13-year-old me was like 'oh…that's a new, unexpected feeling'. At a time when everyone was telling me 'your childhood years are the best years of your life' it didn't feel that way. I felt alone, isolated and like I was the only person who felt how I felt.
SECTION 28 HAS SO MUCH TO ANSWER FOR – IT MUST NEVER HAPPEN AGAIN
Because even though I grew up in the era of Section 28 and no staff at school ever explicitly said that being gay or being part of the LGBTQ+ community was wrong, their silence spoke volumes.
I felt as a child and a teenager that I was different in a bad or negative way, and that if I told anyone I would be bullied even more. That I would be judged and worst of all, I would lose the people I felt had to love me – like my family. Even when, if I am being brutally honest, I didn't feel loveable in the first place.
But for some reason – even during the era of Section 28 – a law which meant in schools and colleges it was illegal to talk about being gay – I couldn't keep my sexuality a secret. Because when you carry a secret, something about yourself that from what you see and hear – or don't see and hear – makes you feel like you are wrong or bad – you only have those thoughts and feelings – the same negative narrative on repeat in your head.
And I knew, even back then, that that wasn't good for me and my mental health. So, I did share it with people – other students at school and eventually my family. But for many years until I was 19, it was always a secret from someone.
Even though I was struggling, and I was terrified of what people would think of me, say to me and even do to me, I wanted to be open with people. For them to know about who I was. Because, and I stand by this to this day, being gay isn't all of me but it's an important part of who I am, and always has been.
And by hiding who I was, meant I couldn't ever be fully present, participate fully in my childhood because I was always analysing everything. Had anyone I had shared with, told anyone? Were people bullying me either to my face or behind my back? I was just trying to get through each day and that robbed me of the chance to 'just be a kid'.
SO WHAT IS AN AMBASSADOR?
The Cambridge Online Dictionary says an ambassador is – "a person who represents, speaks for, or advertises a particular organization, group of people, activity, or brand". And I am an ambassador as I represent, speak for and advocate for LGBTQ+ people. And I love what I do.
I started out supporting trans and non-binary youth, leading a flagship and award winning BBC Children in Need project in Leicester. And now as an LGBT+ inclusion consultant I still love what I do. Whether it is guest lecturing at DMU to student midwives to give them the tools and confidence to support LGBTQ+ families in an inclusive way. Or whether it is providing a safe, supportive, and validating space for LGBTQ+ learners at Loughborough College through my 1-1 support and advice service.
But there was a time, as you have heard through the snippets of my childhood that I have shared with you today, where I wasn't an ambassador for me. When I was bullied for being gay, I didn't stand up for and represent myself in the way that I do now. For myself, my wife and the wider LGBTQ+ communities who I work with and represent. And I often wonder why not.
I suppose by being open with some people about who I was, was me being an ambassador for me. But when I was bullied, I just didn't have the tools to stand up for myself and stand up for what was right. I simply didn't see other people standing up for LGBTQ+ people or standing up for what was right and therefore I couldn't replicate that.
And perhaps, also, it was because on some level I felt the bullies and those who didn't like LGBTQ+ people, simply for being LGBTQ+, were right. I was wrong, there was something wrong with me and being gay was wrong.
IT'S SAID TIME & TIME AGAIN, BUT YOU CAN'T BE WHAT YOU CAN'T SEE
In the 90s and the early 2000s I didn't hear about LGBTQ+ people on the radio or see many LGBTQ+ characters or people on TV. And where I did, they were only really known for their talent and their sexuality or gender identity either wasn't mentioned or was simply overlooked.
That said there were moments in time and people throughout my life who I will never forget. Who helped me to see and start the road to self-love and self-acceptance and who taught me to be an ambassador, both for myself and the wider LGBTQ+ community. And I'd like to tell you about some of these people and moments now.
It was Sunday 10th March 2002 and my childhood friend's 'Uncle Mark' who is gay too, came bouncing into their kitchen, waving a newspaper shouting, 'I knew it, I knew it' – I told you Will Young is gay'. I was 14 years old.
Seeing Uncle Mark beam from ear to ear, not about being right, but being genuinely happy that someone could live their truth was more empowering for me than I will ever be able to articulate. Seeing a positive response about someone being LGBTQ+, rather than one of embarrassment and shame, was life changing. It made me stand a little taller and that self-acceptance and self-love seed was sown.
When I was 16 years old, I met one of my cousin's friend's and his boyfriend. I'd never socialized with anyone my age who was LGBTQ+ before and seeing them hold hands, kiss each other, and talk to me about their lives and their relationship was again life changing.
I told them both I was gay too. And I told them without hesitation, at a time when I was still hiding who I was from my family. They were really positive and asked me if I was seeing anyone – of course I wasn't. But they talked to me like being gay was the most 'normal' thing in the world because of course for them it was. But at the time I hadn't had any positive affirming experiences and so for me it wasn't 'normal'. In fact, this moment may well have been the first time anyone had affirmed my sexuality, who I was.
LGBTQ+ PEOPLE NEED AFFIRMATION – FROM ALL PARTS OF THEIR LIVES
Again, when I was 16, my boss at my part-time job, was openly gay and not unlike my cousin's friends, I had told him about my sexuality too. When I was 17 and applying for universities, he said to me 'Lisa you must join a gay club'. I was like 'a what?!'.
I mean, picture it. I lived in a small village, nobody I was friends with or socialized with were part of the LGBTQ+ community and here was my manager telling me there were gay 'clubs'. 'Every university has one you know' he said, 'you just have to join'. So off I went to Loughborough University and sure enough he was right, there was the LGBT Association.
There is a song by Grace Petrie a singer/songwriter from Leicester, called 'Black Tie'. And although it was only released four years ago, the entire song resonates so much with me. It makes me feel proud of being LGBTQ+, it makes me stand a little taller and it gives me hope. There are lines which say…
"And there's folks you've yet to meet, but you're exactly up their street…and better days are on their way, when it won't matter what they say, on the labels on the doors, you will figure out what's yours…and girl you're gonna be so happy, and girl you're gonna be just fine".
And do you know, I am happy, and I am fine, because I found my folks, I found my people.
I FOUND MY PEOPLE & I NEVER LOOKED BACK
It was 2006 and I remember walking into Loughborough University's sports hall for fresher's fayre and seeing the stand and seeing for the first time without realizing it, my people. People who felt in some way like I did, who had a similar lived experience to me and who would accept me for being gay. So, I joined then and there, and I didn't look back.
For the first time in my life, I had people around me who 'got me'. I met the wonderful Babak Erfani who was the Chair of the LGBT Association when I joined, and who now works for Network Rail. Babs is the Founder of Archway – Network Rail's first and only LGBT+ employee network. In fact, in 2017, Babs was awarded an MBE by Her Majesty the Queen for services to Network Rail and Diversity in Transport for his LGBT inclusion work.
And it was Babs who encouraged me to run to be the next Chair of the LGBT Association. So I did, and I was elected. Part of the role was to attend the National Union of Student's LGBT Conference in Birmingham. And it was hugely inspiring. Let me tell you, that girl from the little village, who's boss told her to join 'gay club' had never experienced anything like it.
In fact, we got off the train from Leicester and someone in our group asked, 'which way is it to the hotel?' Someone else in our group replied 'I don't know, let's just follow the gays'. I turned to look the way they were looking, and I saw so many LGBTQ+ people.
And I know you should never make assumptions about anyone's identities. But there were people who had rainbow badges and rainbow flags. And sometimes I think when you meet someone who is part of your community, you just know.
To be surrounded by LGBTQ+ people for an entire weekend and to hear the different speeches, vote on NUS policy, socialize with other LGBTQ+ people and even head off to Nightingales – my first gay club experience – and dance safely without fear of prejudice, was hugely empowering.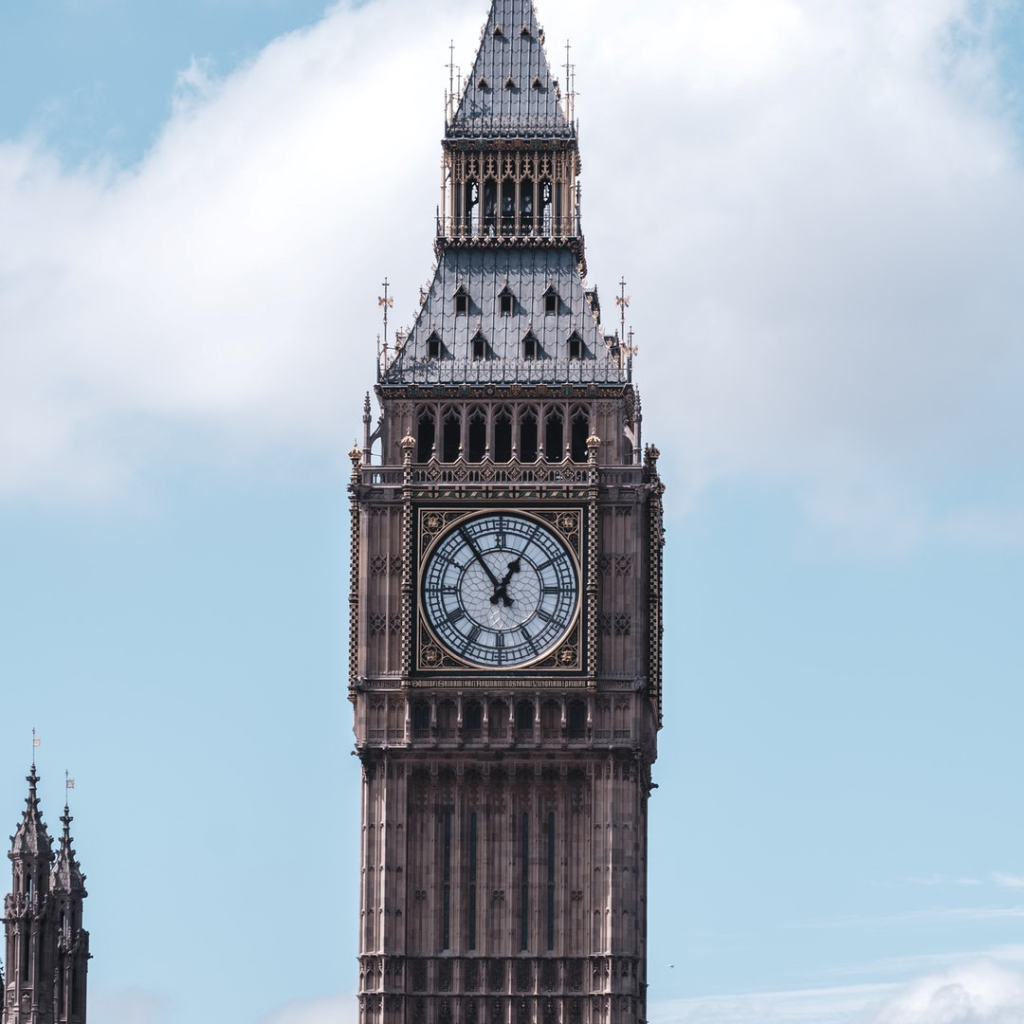 Before I worked on the BBC Children in Need project in Leicester and started my own consultancy business, I worked for an MP in the Houses of Parliament in London. A liberal democrat MP from Solihull called Lorely Burt. I was lucky enough to have been working there when 'same-sex' marriage was debated in 2013.
It was 8am, the first day 'same-sex' marriage was to be debated in the House of Commons and I arrived at the office and the phone was ringing. I answered it 'Is she in?' a rather agitated person asked. I responded politely of course and asked them what their phone call was regarding. 'I want to know how she is going to vote today; you know about the gays' they said. 'Put them on' Lorely said, standing tall and like she was ready for a fight. She told me to leave the door open ajar and I heard her say 'No Sir, I don't think being gay is a choice!'.
The conversation continued for a short time and in that time Lol stood up for the LGBTQ+ community with so much assertiveness, and genuine support and pride for our community. When the call ended, she stuck her head around the door and asked, 'how did I do?'. Honestly, I could have hugged her, but instead, not unlike Uncle Mark, I just smiled from ear to ear.
So, what have these experiences taught me? That there is no one way to be an LGBTQ+ ambassador. It doesn't necessarily mean that you have to be the Chief Executive Officer of Stonewall, the national LGBT charity here in the UK – like Nancy Kelley. Although that would be great, and I encourage you all to do so.
BEING AN LGBTQ+ AMBASSADOR MEANS SO MANY DIFFERENT THINGS
So I urge you to be an LGBTQ+ ambassador, to be like Uncle Mark and my cousin's friends – and always react and behave kindly and in support of your LGBTQ+ friends and the people you meet in life. Why, because although I hope with all my heart you won't be, you might just be the first person to react positively about their identity or in fact you might be the first person they have ever told.
And trust me, it's vital that all LGBTQ+ people, young, old and those who've not even born yet, to have a positive experience when they disclose who they are. And it isn't just vital, it is what all LGBTQ+ people deserve. Being free to be LGBTQ+, whatever that looks like for someone, should be a human right. Being free from discrimination, prejudice and persecution and being accepted, respected, seen and heard for who you are.
And where this isn't always the case, both here in the UK and all around the world, I want to tell you that the power you have to make a difference to every individual person you meet can, never be underestimated, as the stories I have shared with you show. Being an LGBTQ+ ambassador can also mean standing up for what you believe in – the rights of LGBTQ+ people to live their truth freely with acceptance and love rather than simply tolerance. I don't want to be tolerated – like a flickering light bulb that no-one has got around to changing, I want to be accepted.
So be like my manager when I was 16 and encourage your LGBTQ+ friends and family to join an LGBTQ+ association, society or club. If you don't have one at your school, why not? Do you want to start one? Do you think it could benefit you or other current and future students? You never know you might end up an MBE, just like my friend Babs.
IT DOESN'T HAVE TO BE 'THEM' VS 'US' – WE CAN LISTEN TO & RESPECT EACH OTHER EVEN IN DIFFERENCE
And if you overhear people making discriminatory and judgmental comments about the LGBTQ+ community, be like Lorely Burt MP and challenge them on their thinking. You don't have to be rude or verbally aggressive to be a passionate LGBTQ+ ambassador. Ask people to tell you more about what they think and feel, ask them why they feel that way. If you give people who think differently to you this respect, I have found they will often listen to what I have to say in return, even when they completely disagree with me.
I know it might sound odd, but listening to each other and respecting each other's voice, even if we don't agree on what each other are saying, may be the only way to change hearts and minds. Of course, if someone holds a prejudice about LGBTQ+ people and can't tell you why and won't listen to what you have to say. Then hold your head up high and move on, secure in the knowledge that you are a better person than they are and that you tried. That you stood up for yourself as an LGBTQ+ person and/or the wider LGBTQ+ community.
So, to end, I'd like to ask you a question and tell you just one more story. On the screen is a picture from my wedding day which was only 5 weeks ago today – I still can't quite believe it! As you can see there is a lot of emotion in this picture – why do you think I'm crying? What do you think has happened?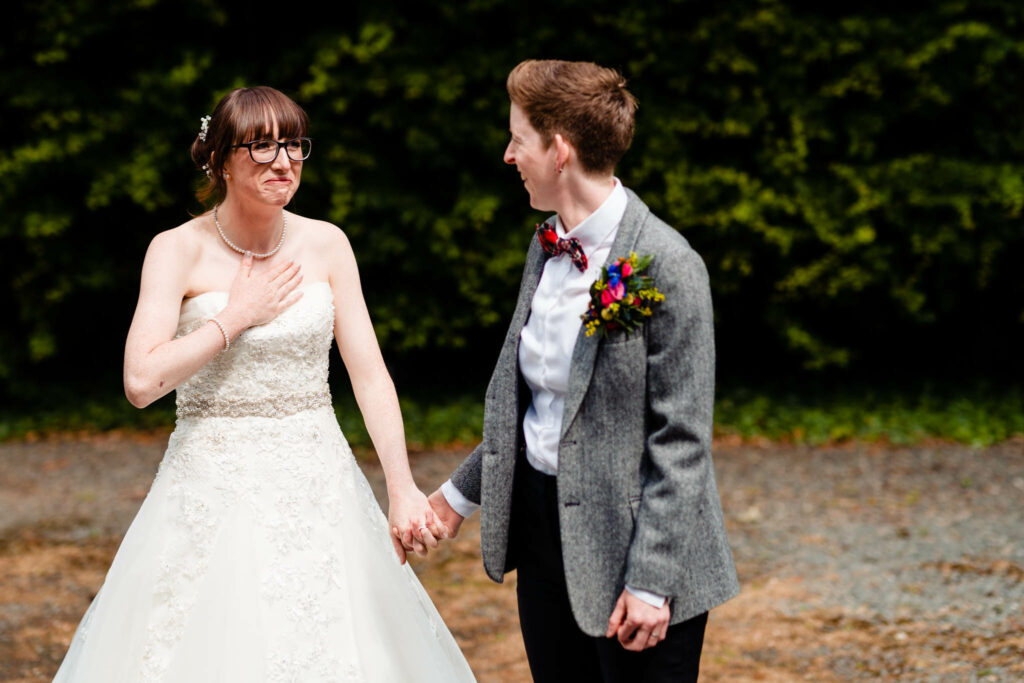 Our wedding was very DIY and we did almost everything – this is where my project and event management experience came in handy! It was the day before the wedding, and we were setting up the hall. The hall is actually a registered charity, so they don't have any paid staff and we were given the keys and let in by two of the trustees – Rod and Manjit.
Rod asked me if we were having a photographer and said, 'if you want you can come and have photographs in front of our house'. I thought this was a very lovely gesture and Manjit said 'oh yes you absolutely should – Rod show her the photo!'. Rod took his phone out of his pocket and showed me a picture of what looked like a castle – well almost, but it did have turrets on the top!
'Why don't you come and look at it now and then tomorrow if you decide to come, you'll know how to walk there' he said. So off we went. When we arrived, Rod asked, 'do you have a pride flag?' and pointed to the roof where they have 2 huge flag poles! I smiled, 'sadly Rod I think my pride flag might be a bit too small for your flag poles' I said. I told him it was a lovely idea and a very kind gesture and off I went back round to the hall to carry on setting up.
So, it's my wedding day, the day my 15-year-old self never thought would come. Eric our videographer – who is actually the same videographer who filmed and edited Grace Petrie's 'Black Tie' music video said 'perhaps we should go and have a few shots now in case it rains later'. So off Laura and I went. And as I turned the corner and saw Rod and Manjit's house – this happened…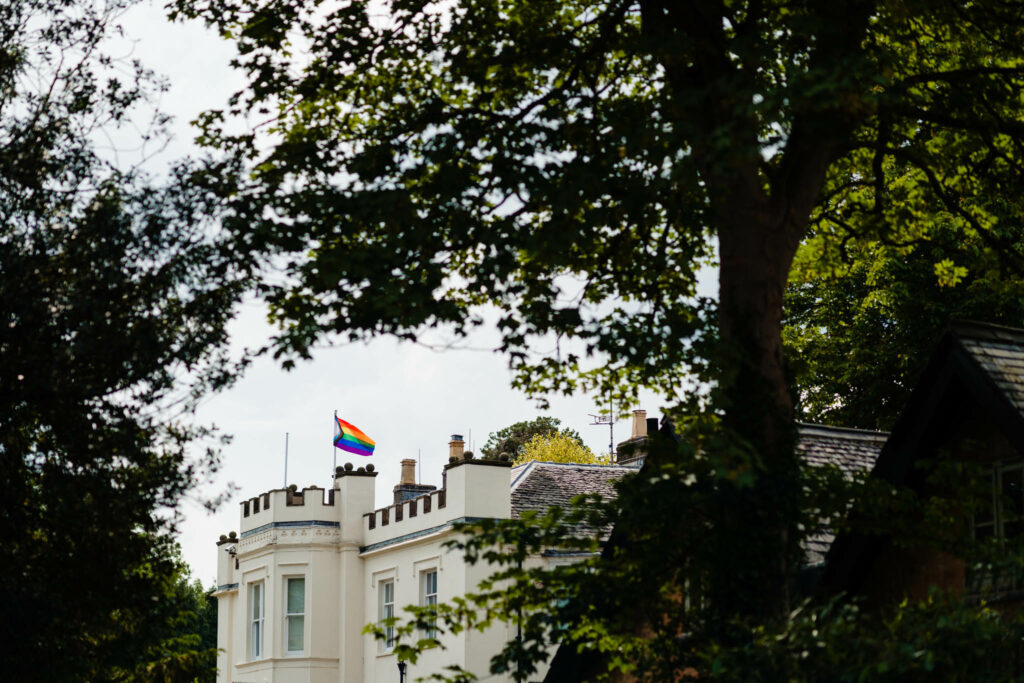 A progress pride flag in all its glory was flying from the top of their house. Two virtual strangers who we had exchanged emails with and looked round the hall with once in 2019, had gone online on a bank holiday and ordered a progress pride flag for next day delivery. I mean they were literally flying a flag in support of Laura and I.
I felt seen, accepted and even more importantly, celebrated than I have ever felt before. That moment may have been the greatest moment of allyship, which is an essential part of being an LGBTQ+ ambassador, that I have ever known and experienced.
I am aware there may be some of you here today who are like me when I was your age.
LIFE ISN'T ALL RAINBOWS & GLITTER AS MUCH AS WE'D LIKE IT TO BE PERHAPS
Perhaps you haven't told anyone about your sexuality and/or gender identity yet. Perhaps you have and the reaction has left you feeling negatively about yourself, unsure of what the future holds. And perhaps you are feeling isolated and lonely.
You may be thinking Lisa, how can I be an LGBTQ+ ambassador for the wider community, when I can't be one for myself. Well, I want you to know that I see you and that you are enough. Everyone's situation is different, we are all different.
Whether you are in a place where you are able to be open about who you are. Whether you know you can't be for your own mental health and/or physical safety. Or whether you have told a few people and that's all for now – you are enough. In fact, you are more than enough, you are brilliant.
Life is hard for LGBTQ+ people here in the UK at the moment and I won't pretend that it isn't. Yes, I'm happier than I have ever been, and I feel a love and acceptance for myself that I have never felt and for a long time never thought I would feel. But that's not to say it isn't hard.
So, wherever you are on your own journey to being your true self and living your truth, know that you are great, you are worthy, and you have so much to give this world. And even more importantly this world is so tremendously lucky to have you.
Seek out those 'folks you've yet to meet that are exactly up your street' and know that as Grace Petrie tells us, and she is wise you know – 'better days are on their way'. And until those days come, keep being your wonderful self and know that even on the days it doesn't feel like it, being part of the LGBTQ+ family is something to be proud of.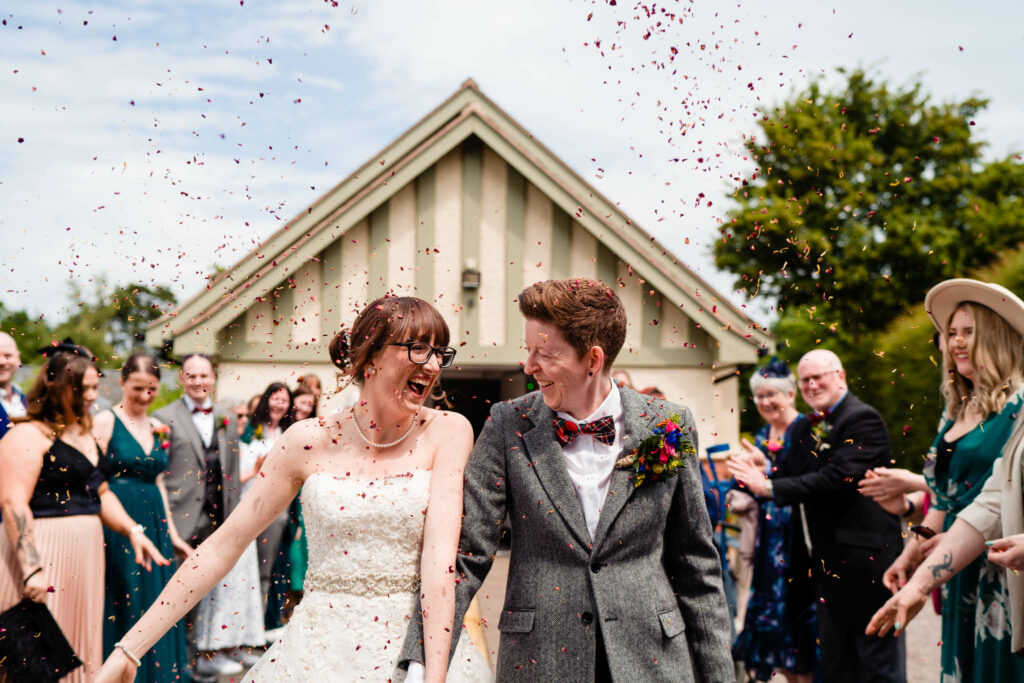 And even when you aren't able to fly a progress pride flag for yourself – metaphorically or literally – there will be people like me, Rod and Manjit and thousands of others flying it for you.
Thank you.