Hi I'm Lisa. I'm an LGBT+ advocate, consultant and trainer with seven years' experience working on the front line with LGBT+ children and young people.
WHERE IT ALL BEGAN – LGBT+ IN LOUGHBOROUGH
With a BSC in Sociology and MA in Parliamentary Politics, I began my career working for a Member of European Parliament and a Member of UK Parliament. However, it was my time as Chair of Loughborough University's LGBT Association which ignited my desire for a career which made a difference. Something you'll have heard before perhaps, but for me it's true. Knowing that policy and public affairs in the third sector was where my heart truly laid, I went on to work for three years for several national charities.
MY (AWARD WINNING) EXPERIENCE – LGBT+ IN LEICESTERSHIRE
In 2015, I took the Young Transgender Centre of Excellence (YTCE), a BBC Children in Need supported project based at the Leicester LGB&T Centre, from concept to a regional, award winning service. Set up to support transgender young people, their families and professionals who may also be working with them; advocacy, consultancy and training were integral to the service.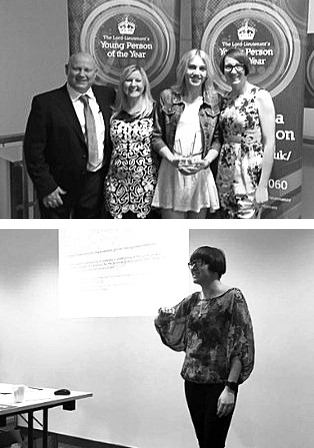 Winning Leicester Pride's Unsung Hero Award in August 2016, I worked with over 70 transgender and non-binary children and young people and also supported around 40 of their families. I have written and delivered assemblies and workshops to over 1500 secondary school students. Additionally, I have written and delivered training to over 750 professionals working across the public, private and third sectors. Professions include:
Primary and secondary school staff.
Nurses and health visitors.
GPs.
Police officers.
Foster carers.
Educational psychologists.
Social care and early help staff.
Child and Adolescent Mental Health Service (CAMHS) staff.
The YTCE gained national recognition from the then Minister for Women and Equalities and Minister for Education, Nicky Morgan MP. I was asked to be a stakeholder for the Women and Equalities Department, meeting the then Prime Minister, David Cameron MP. Furthermore, I have delivered workshops and spoken at numerous national and regional events. Notably, for the national LGBT charity, Stonewall and for the Gender Identity Development Service (GIDS), the only NHS provision that supports transgender children and young people in England and Wales.
Across Leicestershire I have worked with many organisations including Leicester City Council and Leicestershire County Council to deliver training. Furthermore, I co-authored national guidance along with 10 other local authorities. I have also guest lectured at both the University of Leicester and De Montfort University.
WHY I DO WHAT I DO – SUPPORTING THOSE STRIVING FOR LGBT+ INCLUSION 
Many of the young people told me they wouldn't be here today if it wasn't for the support I offered them, their families and school and also other professionals who were working with them. When I set up the YTCE, I didn't know how successful it would be. I could not be prouder and am almost speechless at what the project managed to achieve.
Making a real difference to some of the most vulnerable people in our society is why I work in this field. I want to support others who are striving for LGBT+ inclusion in their organisation, to make that real difference too. I was once referred to as a 'one woman power house' and also by the young people as their 'fairy trans mother'. In fact when someone referred to me as an 'SME', I responded 'small and medium sized enterprise?', they laughed and said 'no, subject matter expert'.
I am passionate, knowledgeable and experienced and am thrilled to have the opportunity to continue to make a positive difference to those who are striving for LGBT+ inclusion.
GET IN TOUCH
If you are striving for LGBT+ inclusion in your organisation, I'd love to support you. Find out more about my services and get in touch to find out how I can help.